Does it matter if we go into a recession?
Does it matter if we go into a recession?
Key Points:
Determining when an economy goes into and out of a recession is difficult and requires hindsight.
Making economic forecasts such as the start and end date of a recession is not likely to improve investment results.
Recessions are not problematic for most people with sound financial and investment plans.
The summer of 2022 has seen a rash of media attention on the issue of whether the U.S. economy is or will be in a recession. For instance, we found these headlines asking the "are we, or aren't we" question:
"So, Are We in a Recession, or What?" – New York Magazine, "Is The U.S. Headed For Another Recession?" – Forbes, and "Are We Already in a Recession 2022?" – Bloomberg.
It took no effort to find articles claiming we were not in a recession such as, "No, We're Not In A Recession Yet" – Forbes, "No, we're not in a recession" – Marketplace.org, and "Yellen Says U.S. Economy Is Not Seeing Recession Conditions Now" – Bloomberg.
Of course, it wasn't hard to find articles that disagreed and purported we were in a recession such as, "Are We Already In A Recession? Yes." – Forbes, "Yes, We Are in a Recession" – Yahoo, and "Are We in a Recession? 2 in 3 Voters Say Yes" – Morning Consult.
All these articles cite economists, market strategists, bankers, government officials, and other highly educated and experienced sources. Whatever you believe, you will have no trouble finding people whose opinion on the matter matches your own and no trouble finding someone who thinks you are wrong.
A question that often goes unasked in these debates is, "Does it matter if we go into a recession?" The answer depends on context and perspective.
What constitutes a recession
A recession is a significant slowdown in economic activity. The recent report on second quarter Gross Domestic Product (GDP) showed a drop in output of 0.9% following the 1.6% decline reported in the first quarter. For some, two quarters of decline is a recession.
However, most economists (who either don't have an agenda, or are otherwise trying to be provocative or sell something) take a broader view of the economy in determining when a recession occurs. To them, it takes a significant decline in economic activity which is spread across the economy and lasts more than a few months, not simply two weak GDP reports, to constitute a recession. In fact, the National Bureau of Economic Research (NBER) declared a recession in 2001 without consecutive declines in GDP.
For many decades, NBER has been the body that identifies when recessions start and stop. Founded in 1920, NBER is a private, nonpartisan organization which facilitates cutting-edge investigation and analysis of major economic issues. They are the unofficial scorekeepers of U.S. recessions.
Commentators love to pick on NBER for declaring that a recession has started or stopped months after the start or stop date they declare. For instance, NBER declared in September of 2010 that the Great Recession ended in June of 2009.  With the economy far from strong in late 2010, the media had a field day belittling NBER, and many Americans did not believe the recession was over.
Although the 15 months it took to identify the end of the Great Recession is a longer lag time than most, there is always time between a recession's end and the declaration of that end. A lag is normal because of the simple fact that economic data takes time to compile. Some data points take longer than others.
When recessions matter
As economic activity slows, some businesses experience a drop in profits. To counter this, many businesses will lay off workers, which can be devastating to an individual family.
Families with a newly unemployed breadwinner can face extreme financial hardship in a relatively short period of time, particularly if their basic personal finances are not in good order. Unfortunately, most American households do not have sound personal finances, so headlines proclaiming widespread suffering from a recession are not just hyping a story for clicks.
When recessions do not matter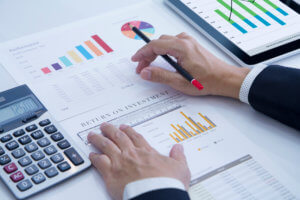 For prudent investors with sound financial plans, the issue of whether we are already in, are headed toward, or will avoid a recession should be immaterial.
There have been many times financial markets have started down before the economy has slowed. There have also been many times the market has fallen but no economic slowdown followed.
Similarly, financial markets have often begun to recover before things looked better, the economy turned around, or a recession ended. The behavior of markets around the COVID-crash in 2020 is just the latest example. In fact, according to Dimensional Funds, in four of the six recessions since 1980, markets turned up before the start of the recession was even identified.
This lack of pattern and clear causation is one reason why making economic forecasts is not likely to improve investment results. Even if you correctly predicted the starting and ending dates of a recession before either was determined by NBER, those dates provided no insight into what markets did before or during the recession. The only strong pattern observed is that markets are generally up after a recession has started.
The only strong pattern observed is that markets are generally up after a recession has started.
The U.S. economy has experienced 15 recessions in the last century. In only four of those 15 periods was the stock market lower two years after the start of the economic pullback. The average return of stocks two years after the start of those recessions was 7.8% per year. That's remarkable given that average includes the Great Depression and its extreme losses.
It is fine to speculate on whether we are in a recession but if you extend that speculation to moving large portions of your holdings around based on a forecast of how markets will do, you are playing a game with a very poor track record. It's a game you do not need to play to have a successful investment experience.
If your job would be in jeopardy, it is reasonable to worry about the health of the economy and you would be wise to shore up your finances. Otherwise, with a sound plan that includes diversification, patience, and discipline, you should get through this economic storm whether it has already started or not. For true investors, recessions should not be problematic. Invest, don't speculate.
We are moving our Orlando office! Effective October 3, 2022 we will be next door in Suite 1170 of the Bank of America building at 300 S Orange Avenue.
As we continue to expand our services to our clients, we have grown beyond the limits of our suite in downtown Orlando. Our team has been working on space design and lease agreements for a larger office and we are now ready to move. In addition to being in a different building, we will utilize a different parking area. The entrance is right next to the one used for our current office. You can see a complete set of directions to the new office here. We are looking forward to welcoming you there soon.
 Contact Us
---
Moisand Fitzgerald Tamayo, LLC is an Orlando, Tampa and Melbourne, Florida based fee-only financial planner serving central Florida and clients across the country. Moisand Fitzgerald Tamayo, LLC specializes in providing objective financial planning, retirement planning, and investment management to help clients build, manage, grow, and protect their assets through all phases of one's life and the many transitions in between. If you have any questions or would like to discuss anything further, please give us a call or send us a note. If you are not a client and wish to receive emails notifying you of new posts – no more than once per month – fill out the subscription information in the sidebar to the right. For more frequent updates, follow us on Facebook, LinkedIn, or Twitter.  
Important Additional Information & Disclosures
---
Please remember that past performance may not be indicative of future results.  Different types of investments involve varying degrees of risk, and there can be no assurance that the future performance of any specific investment, investment strategy, or product (including the investments and/or investment strategies recommended or undertaken by Moisand Fitzgerald Tamayo, LLC-"MFT"), or any non-investment related content, made reference to directly or indirectly in this blog will be profitable, equal any corresponding indicated historical performance level(s), be suitable for your portfolio or individual situation, or prove successful. 
Due to various factors, including changing market conditions and/or applicable laws, the content may no longer be reflective of current opinions or positions.  Moreover, you should not assume that any discussion or information contained in this blog serves as the receipt of, or as a substitute for, personalized investment advice from MFT. 
Please remember that if you are a MFT client, it remains your responsibility to advise MFT, in writing, if there are any changes in your personal/financial situation or investment objectives for the purpose of reviewing/evaluating/revising our previous recommendations and/or services, or if you would like to impose, add, or to modify any reasonable restrictions to our investment advisory services. To the extent that a reader has any questions regarding the applicability of any specific issue discussed above to his/her individual situation, he/she is encouraged to consult with the professional advisor of his/her choosing. MFT is neither a law firm nor a certified public accounting firm and no portion of the blog content should be construed as legal or accounting advice. Tax advice is given only to clients and only when agreed to by MFT. A copy of the MFT's current written disclosure Brochure discussing our advisory services and fees is available for review upon request.
Please Note: MFT does not make any representations or warranties as to the accuracy, timeliness, suitability, completeness, or relevance of any information prepared by any unaffiliated third party, whether linked to MFT's web site or blog or incorporated herein, and takes no responsibility for any such content. All such information is provided solely for convenience purposes only and all users thereof should be guided accordingly.
Please Note: Limitations:  While MFT does NOT pay for recognition, awards, or publicity, neither rankings and/or recognition by unaffiliated rating services, publications, or other organizations, nor the achievement of any designation or certification, should be construed by a client or prospective client as a guarantee that he/she will experience a certain level of results if MFT is engaged, or continues to be engaged, to provide investment advisory services. Rankings published by magazines, and others, generally base their selections exclusively on information prepared and/or submitted by the recognized adviser. Rankings are generally limited to participating advisers. No ranking or recognition should be construed as a current or past endorsement of MFT by any of its clients.  ANY QUESTIONS: MFT's Chief Compliance Officer remains available to address any questions regarding rankings and/or recognitions, including providing the criteria used for any reflected ranking.
Historical performance results for investment indices, benchmarks, and/or categories have been provided for general informational/comparison purposes only, and generally do not reflect the deduction of transaction and/or custodial charges, the deduction of an investment management fee, nor the impact of taxes, the incurrence of which would have the effect of decreasing historical performance results.  It should not be assumed that your MFT account holdings correspond directly to any comparative indices or categories. Please Also Note: (1) performance results do not reflect the impact of taxes; (2) comparative benchmarks/indices may be more or less volatile than your MFT accounts; and, (3) a description of each comparative benchmark/index is available upon request.