Every day is Independence Day at Moisand Fitzgerald Tamayo
Every day is Independence Day at Moisand Fitzgerald Tamayo
At the heart of the meaning of the word "independent" is the concept that one is free from the control of another. When we say we are independent, that is precisely what we mean. The firm receives all of its income directly from clients. There is no third-party compensation. We cannot serve two masters and we don't even try. We work for our clients and no one else.
We work for our clients and no one else.
Most of the financial services industry sees things differently. Most independent brokers, advisors, and agents call themselves independent because they are independent contractors to a brokerage or insurance company rather than traditional employees. They have more freedom than traditional employees, but they are paid by the companies they contract with to sell financial products to clients.
We are able to maintain our independence because our firm is 100% employee owned. Walk into our offices and it is likely an owner is within 30 feet of where you are standing. We intend to keep it this way. To that end, a few years ago, we invited Derrick Chandler and later Mike Salmon to buy modest stakes in the firm. They enthusiastically accepted.
Since then, our firm has grown steadily and responsibly. We expanded our staff and our capabilities so we can continue to deliver excellent advice and service to our clients. Along the way, we have been blessed with substantial recognition from the financial planning profession with a list of significant accolades.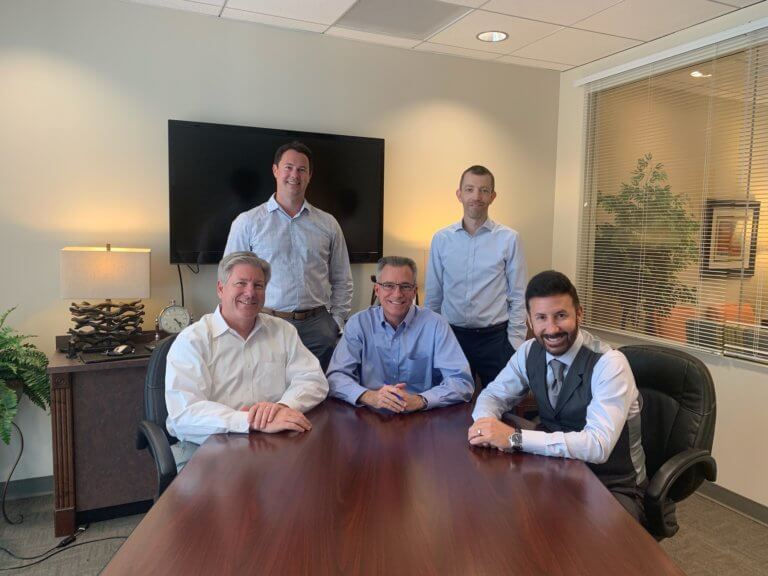 Like you, we have goals. From our early days as a firm, it has been our vision that long after we were gone, the descendants of our clients would be served by the next generation of financial planners in our firm as truly independent fiduciaries. That is no easy goal but with good planning, patience, and discipline, we are getting closer to realizing this goal. Today, we are happy to announce that all five of us owners now own equal 20% shares of the firm.
In addition to congratulatory messages, we have received a few questions, so we will run through those now.
Will I see any immediate changes in the way the firm is run or in my relationships with the firm?
No. It is a change in ownership but not a change in management. Derrick and Mike were already full participants in the management of the firm.
Does this mean that you older guys are retiring soon?
Heck no! This is a great career, and we are all far too excited about continuing to help people maintain command of their finances and be a "Sanctuary from the noise®."
Then why sell now?
The two primary reasons are to assure continuity of leadership and provide opportunities for our team. We are all human and life happens. This transaction makes continuity of leadership easier in the event any of us is not able to work. It also shows our talented staff (see news & notes below) that we are willing and capable of expanding ownership internally. We've seen a number of colleagues around the country who did not make ownership opportunities available and, in order to retire, had to sell to outside parties. This often reduced or eliminated their independence, changed the work environment and was a negative for staff and clients.
Will our fees change?
No. We are not expensive, and you don't want cheap. We periodically benchmark our fees to keep tabs on what others are doing and what they are charging. We are very comfortable that given the breadth, depth and quality of our financial planning capabilities and the client service we provide, our fees are more than fair. By maintaining our independence, we should be able to keep our fees easily affordable by those wanting to work with a top-quality team.
News & Notes
Congratulations, Mike Salmon: The Orlando Business Journal named Mike Salmon, CFP® one their 40 Under 40 honorees for 2021.  The publication cited Mike's position as President of the Central Florida Chapter of the FPA and his work leading the charge to open our firm's Tampa office. Mike was previously named a Young Advisor to Watch by Financial Advisor magazine in 2018.
Congratulations, Tommy Lucas: Due to his excellent work over the last six years, Tommy Lucas, CFP® EA has been promoted to the position of Financial Advisor. He will continue to support our existing advisors but will also become the primary point of contact and lead advisor for clients.
Congratulations, DJ Hunt: DJ Hunt, CFP®, made his publishing debut with his column for a new website for advisors called Rethinking 65. DJ will produce columns for them about once a quarter. His first contribution, "Preparing Non-Moneyed Heirs for a Seven-Figure Windfall," ran in April.
Higher inflation readings to cause significant increase in Social Security payments: An advocacy group, the Senior Citizens League, estimates that the Cost of Living Adjustment (COLA) for Social Security payments will rise 5.3%. In 2020, the COLA was 1.3%. The official COLA, based on third-quarter inflation data as measured by CPI-W, will be announced in mid-October.
Please remember to call us: When anything significant happens in your life, including changes in your finances, family, or health that could affect your financial plan, please let us know so that we can adapt our planning and portfolio work for you accordingly. Also, if you ever fail to receive a monthly statement for one of the Schwab Institutional or TD Ameritrade Institutional accounts under our management, please let us know so we may assure the respective custodian delivers your statements promptly.
Yours truly,
The Team at Moisand Fitzgerald Tamayo, LLC
 Contact Us
---
Moisand Fitzgerald Tamayo, LLC is an Orlando, Tampa and Melbourne, Florida based fee-only financial planner serving central Florida and clients across the country. Moisand Fitzgerald Tamayo, LLC specializes in providing objective financial planning, retirement planning, and investment management to help clients build, manage, grow, and protect their assets through all phases of one's life and the many transitions in between. If you have any questions or would like to discuss anything further, please give us a call or send us a note. If you are not a client and wish to receive emails notifying you of new posts – no more than once per month – fill out the subscription information in the sidebar to the right. For more frequent updates, follow us on Facebook, LinkedIn, or Twitter.  
Important Additional Information & Disclosures
---
Please remember that past performance may not be indicative of future results.  Different types of investments involve varying degrees of risk, and there can be no assurance that the future performance of any specific investment, investment strategy, or product (including the investments and/or investment strategies recommended or undertaken by Moisand Fitzgerald Tamayo, LLC-"MFT"), or any non-investment related content, made reference to directly or indirectly in this blog will be profitable, equal any corresponding indicated historical performance level(s), be suitable for your portfolio or individual situation, or prove successful. 
Due to various factors, including changing market conditions and/or applicable laws, the content may no longer be reflective of current opinions or positions.  Moreover, you should not assume that any discussion or information contained in this blog serves as the receipt of, or as a substitute for, personalized investment advice from MFT. 
Please remember that if you are a MFT client, it remains your responsibility to advise MFT, in writing, if there are any changes in your personal/financial situation or investment objectives for the purpose of reviewing/evaluating/revising our previous recommendations and/or services, or if you would like to impose, add, or to modify any reasonable restrictions to our investment advisory services. To the extent that a reader has any questions regarding the applicability of any specific issue discussed above to his/her individual situation, he/she is encouraged to consult with the professional advisor of his/her choosing. MFT is neither a law firm nor a certified public accounting firm and no portion of the blog content should be construed as legal or accounting advice. Tax advice is given only to clients and only when agreed to by MFT. A copy of the MFT's current written disclosure Brochure discussing our advisory services and fees is available for review upon request.
Please Note: MFT does not make any representations or warranties as to the accuracy, timeliness, suitability, completeness, or relevance of any information prepared by any unaffiliated third party, whether linked to MFT's web site or blog or incorporated herein, and takes no responsibility for any such content. All such information is provided solely for convenience purposes only and all users thereof should be guided accordingly.
Please Note: Limitations:  While MFT does NOT pay for recognition, awards, or publicity, neither rankings and/or recognition by unaffiliated rating services, publications, or other organizations, nor the achievement of any designation or certification, should be construed by a client or prospective client as a guarantee that he/she will experience a certain level of results if MFT is engaged, or continues to be engaged, to provide investment advisory services. Rankings published by magazines, and others, generally base their selections exclusively on information prepared and/or submitted by the recognized adviser. Rankings are generally limited to participating advisers. No ranking or recognition should be construed as a current or past endorsement of MFT by any of its clients.  ANY QUESTIONS: MFT's Chief Compliance Officer remains available to address any questions regarding rankings and/or recognitions, including providing the criteria used for any reflected ranking.
Historical performance results for investment indices, benchmarks, and/or categories have been provided for general informational/comparison purposes only, and generally do not reflect the deduction of transaction and/or custodial charges, the deduction of an investment management fee, nor the impact of taxes, the incurrence of which would have the effect of decreasing historical performance results.  It should not be assumed that your MFT account holdings correspond directly to any comparative indices or categories. Please Also Note: (1) performance results do not reflect the impact of taxes; (2) comparative benchmarks/indices may be more or less volatile than your MFT accounts; and, (3) a description of each comparative benchmark/index is available upon request.